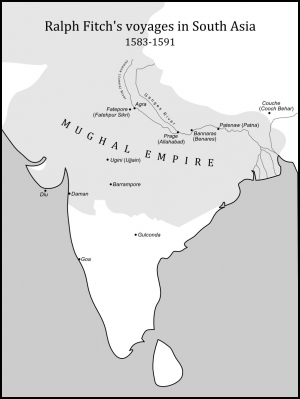 Ralph Fitch was one of the first English merchants to visit India and carry his report home. The account of his eight-year voyage was first published in Richard Hakluyt's Principal Navigations, a multi-volume compendium of English travel narratives.1 No manuscript of the account survives, and it is impossible to know if, or how much, Hakluyt edited Fitch's report.2 Like any early-modern English text, Fitch's report has idiosyncratic spelling, especially in the rendering of Indian proper names, which in most cases vary considerably from modern usage. Additionally, Fitch referred to Muslims as "Moors"; the "Gentiles" he described were presumably Hindus.
As Fitch relates, he and three companions (John Newberry, William Leedes, and James Story) were sent by two London financiers (Sir Edward Osborne and M. Richard Staper) to investigate trade possibilities with India. They departed in 1583 on the ship Tyger, which bore them to the eastern Mediterranean. There they crossed overland to the Red Sea. At Ormus, at the mouth of the Persian Gulf, they were imprisoned by the Portuguese, who took them to their colonies in India—first Diu, then Daman, and lastly Goa. Fitch and two of his companions escaped from Goa and trekked across the Deccan in central India. They passed by Gulconda (near present-day Hyderabad), which Fitch noted was a source of diamonds. About the Deccan, Fitch added, "We found it here very hote."3
The Englishmen's destination was the kingdom of the "Great Mogor" (Mughal), "Zelabdim Echebar" (Jalaluddin Akbar), in northern India. Fitch visited the Mughal cities of Agra and Fatehpur Sikri. In his account, he marveled at the cities' grandeur. Of the former he said, "Agra is a very great citie and populous, built with stone, having faire and large streetes, with a fair river running by it…"4 As Ram Chandra Prasad has noted, Agra in Fitch's time had none of the great monuments that would make it a world-famous city. The Taj Mahal was yet unbuilt, and the Red Fort had not reached its present form.5 Fatehpur Sikri was recently completed by the time Fitch visited. Although he praised the cities for their grandeur, the account that survives provides only sparse descriptions and little evidence of what he actually thought of the places he visited.
In Fatehpur Sikri, Fitch parted with his two companions. John Newberry headed back toward England but probably died somewhere along the way (where or why is not clear), while William Leedes stayed and worked as a jeweler for Akbar. For his part, Fitch continued his commercial explorations by following the Ganges river down to Bengal with boats loaded with trade goods. After reaching the mouth of the river, he traveled north to Couche (Cooch Behar) and investigated trade routes into Tibet. He later traveled even farther afield to Pegu (in present-day Myanmar), Siam, and the eastern coast of the Indian peninsula. After eight years abroad, Fitch returned to England in 1591.